Autologic
Autologic is a world leader in advanced aftermarket automotive diagnosis. Autologic help you fix European cars, faster. You and your technicians now need support that goes beyond a diagnostic tool. Autologic can help you get the job done and keep your customers satisfied.
Autologic are the first company to recognise that you need more than just a tool to diagnose today's sophisticated European cars. That's why Autologic Assist was created.
Assist is not just a support service. It's not just a tool. And, it's not just easy access to vehicle repair information.
It's all of these combined and so much more.
Introducing Autologic Assist and AssistPlus
Assist is the first fully-integrated, cloud-based support system for fixing cars faster and more profitably. At the heart of Assist is our unrivalled Fault-to-Fix process.
Assist combines a comprehensive support service with an advanced diagnostics device, called AssistPlus, as well as seamless access to leading vehicle repair information databases. This service was developed in response to the increasing sophistication of modern European premium brand vehicles. Assist increases workshop profitability and end customer satisfaction. With Assist, Autologic provides a unique combination of technical insights and state-of-the-art technology.
It is like having a brand-specific Expert Technician in your workshop right when you need them – and not on your payroll. For the first time, with Assist, you have a service that is connected directly to our dedicated Assist centres in the United States, United Kingdom, Australia and Germany, where brand-specific experts are ready to help you diagnose even the most complex issues.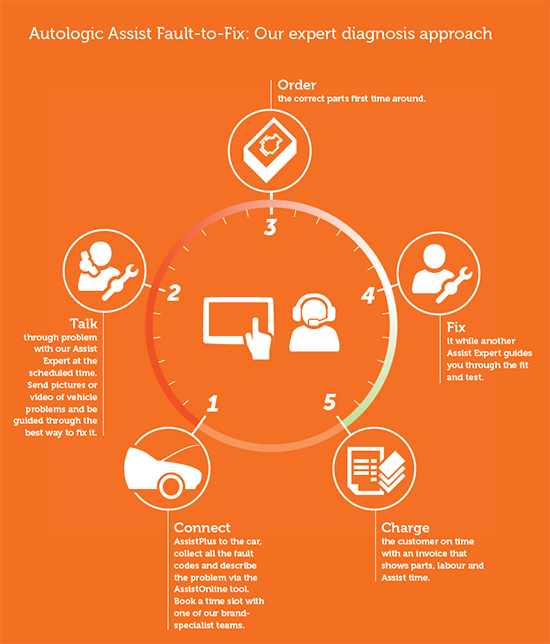 Key Features of Assist
First of its kind 'Fault-to-Fix' integrated diagnosis service
Service, diagnostics device and information in an integrated system
AssistOnline tracking system for faults and fixes
Integrated with our AssistCloud service so you can access your files on any device
Access to more than 50 OEM-trained Assist Expert technicians with up-to-date, professional development
Full software support and vehicle updates
Regular vehicle-related diagnostic upgrades
Booking system for more involved tasks
With the Assist service at your fingertips, you benefit from our unique Autologic Fault-to- Fix process to ensure that you get the car fixed, on time and on budget.
How Autologic Assist helps your business
Diagnose and repair more vehicles daily Increased billable hours, revenue and cost control Enhanced ability to service more complex
Brands Supported by Autologic Assist
BMW
Volvo
Land Rover
Peugeot
Jaguar
Citroen
Mercedes-Benz
Renault
VAG
Dacia
What you Get in Your Annual Assist Support Service
Technical Support
Symptom Assessment
Fault Code Interpretation
Log File Analysis
Diagnostic Pathway
Fix Pathway
Fix Assurance
Guided Pass Through
Remote Support Assistance
Setup Assistance
Online Wizard Access
Pre/Post Programming Healthchecks
Pass Through Programming Support
Guidance on J2534 and Euro 5 Pass Through Programming (Not in NZ currently)
Programming Failure Diagnosis Support
Tool Support
Onboarding and Device Usage Help
Help with Integration/Camera/Cloud
Guidance on Manufacturer-specific Procedures
Regular Diagnostic Software Releases
Updates to Chassis Roadmap
Updates to Variant Roadmap
Updates to ECU Coverage Roadmap
12 Months of Software Support and Vehicle Updates